---
body background="http://michaeltop_b.att.home.net/backgrnd_birds" LINK="0099FF" VLINK="#FFFF00">
I have been lucky enough to have visited Italy twice!!!
I would return in a heartbeat too, given another opportunity.
I love the people, the food and the sights.
In 1990, I traveled to Venice for 5 days, Florence for a day, and Rome for 5 days.
In Rome, one day I went to tour the Vatican and it's museums.
That day, I did not wish to be encumbered carrying my camera, so I do not have any personal photographs of the Vatican, but besides, they don't allow picture taking in the Vatican anyway.
The photograph of me was taken outdoors, on a terrace.
In the photographs that follow, I have included some personal scanned postcards, and some photographs from other people that I got from the Internet (credit given where applicable), so you can appreciate the scenery of that place.
In 1997 I went to Milan to visit some friends, and stayed in a friend's apartment for about a week.
This was great because I got to see how native Italians lived day to day, not the view of the country one would usually get when staying in a hotel.
My friends and I traveled to Lake Como for a day.
Another day, we traveled to the beautiful and picturesque city of Bergamo.
I'll admit it,................I am in love with Italia!!!!!!!!!!!!!!
---
---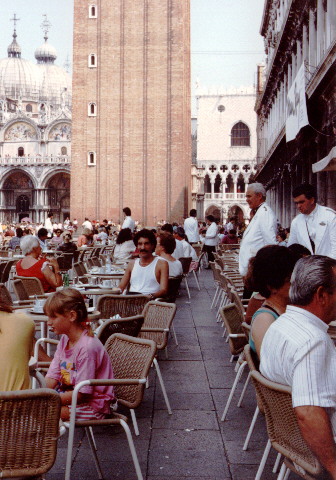 ---
Here I am sitting, having a cup of tea in San Marco Square, in Venice.
I have a wonderful memory of this moment.
A string quartet was performing off to the side.
All of a sudden the bells in the tower of the basilica started ringing.
The beautiful (but very loud) and glorious sounds of the bells stirred up the multitude of pigeons who make San Marco Square their home.
They began flying round and round the gigantic piazza, and it was a spectacular sight and sensation that is deeply etched in my memories, I'm sure, forever.
---
Below is a grand view of San Marco Square and the Basilica.
---
---